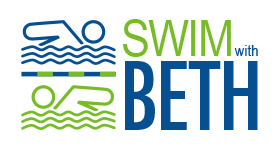 Swimmers age eight and younger:
Swim with Beth is a program that focuses on developing and refining stroke technique for swimmers age eight and younger. Swimmers age eight or younger need to be able to swim across the pool safely and must be comfortable in the deep end. If your swimmer is not comfortable in the deep end or is unable to get across the pool independently, SWB does offer group swim lessons on Sundays 4-4:30 PM.
Swimmers age nine and older:
The summer session is the time to get your 9&over swimmer legal in all strokes. Most winter programs only offer classes for 9&over swimmers who are legal in all four strokes and who know their flip-turns. Therefore, the summer sessions at SWB is a great time to get your older swimmer 'caught up' with stroke development and to allow for more options if your swimmer wishes to continue pursuing swimming at a more competitive level. Coaches will be in the water offering hands-on assistance and guidance. We offer classes at 5:30 and 6:30 on Sundays in four week session increments starting June 4.